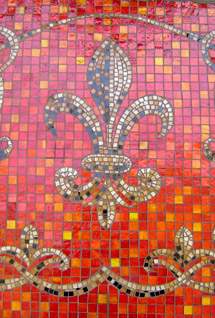 Décor
Good design seamlessly incorporates artisanal treasures as well as appropriate plants. Our signature is the inclusion of mosaic work by Anne Oshman Mosaics or an outdoor mural by Philadelphia artist, Meri Adelman. These can be worked into lawn, paving, wall or container designs. Could a mosaic or mural be just right in your garden?
Visit Anne Oshman Mosaics
Visit Meri Adelman Home
We can assist in the selection, purchase and placement of other ornamental elements: urns and containers, statuary, fountains, furnishings, structures, and garden art.
Click thumbnail for larger image or to view as slideshow