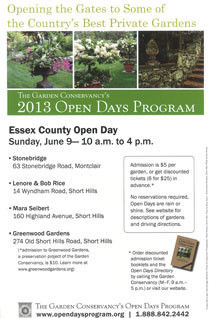 Certification and Affiliations
Certified Landscape Designer
-
New York Botanical Garden
Certified Horticulturalist
Ornamental Plant Identification
Flower Garden Design
- New York Botanical Garden, Bronx, NY
Master Gardener
-
NJAES Rutgers Cooperative Extension, Essex County, NJ

Professional Organizations
- APLD Association of Professional Landscape Designers
- AHS American Horticultural Society
- The Garden Conservancy, an American nonprofit organization dedicated to preserving exceptional gardens and landscapes.

Garden tours
- Garden Conservancy Open Days:


Among the extraordinary gardens selected by this prominent national organization, Ms. Bakshi's Stonebridge Garden in Montclair, NJ is featured annually. The next
Open Day is June 9, 2013.
- Van Vleck House and Garden, "Roses to Rock Gardens":
The showcase Stonebridge Gardens have been featured on this locally prestigious tour. This garden is also certified by the
National Wildlife Association
as a Backyard Habitat.